Thank you for visiting our Peoples Pixel Project Page.  This year's project began in January with a call for work open to the entire state of NY.  Artists were asked to submit their original videos in one of 6 categories (Narrative, Documentary, Animated, 2020 Rewind, Tunes, and Other).  We received over 100 submissions from both emerging and established artists, including many from artists new to the Peoples Pixel Project. 
Submitted work was juried by an independent panel of artists and past P3 winners with the top 21 works selected for "exhibition" in our online gallery and awards in each category.  For our People's Choice Award we created an online polling and voting system – we received 430 votes – and announced the winner on May 17th.
Our project this year also featured a series of four P3: Conversations with participating artists.  These conversations were moderated by staff, art critics, past winners, as well as a regional Professor of Media Arts at Skidmore College.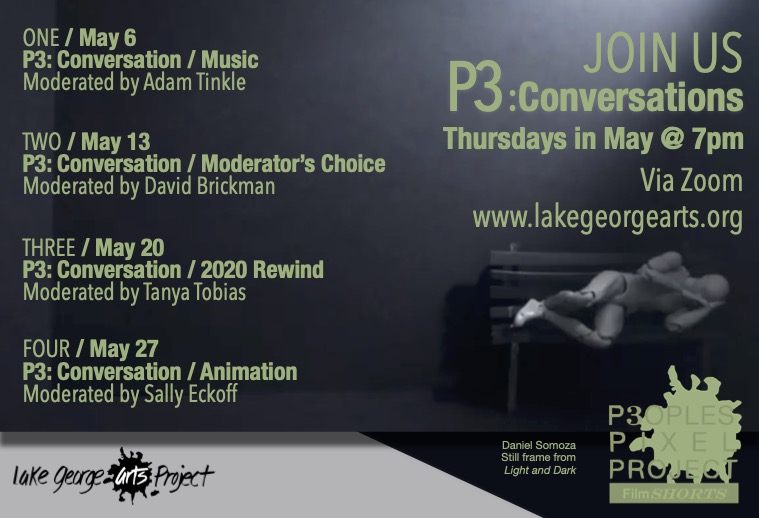 We would like to thank all of the Peoples Pixel Project 2021 Select Artists whose work is featured below.
Please note: artists have ownership over their videos.  If the source of their video changed, or if the artist removed it from the public domain, the link will not work.  All videos were available for the period between April 1 – September 1, 2021.
Peoples Pixel Project 2021 Select Artists & Work:
Congratulations to our Peoples Choice Award Winner – Daniel Somoza!  His work, Light and Dark, will be featured at the Adirondack Film Festival on Oct 14 at 7 pm!
Anne Francey, The Cost of Living, Winner in the Narrative Category
Maleek Green,  Far Away from Home
Owen White,  Captain O-Dawg Saves the Day! Special Recognition Award: Middle School Student
Kimberly Deonarine,  The Final Goodbye
Super Dark Collective: Madeline Darby,  Contain It
Jenna Rothwein, A Day in the Life of Zinny
Zack Appio, Right and Exact 
Mark Spitzer, At Home in the Adirondacks, Winner in the Documentary Category
Laura Frare and Mary Katheryn Jablonski, Five Easy Pieces 
Daniel Somoza, Gobart and Finko, Winner in the Animated Category
Daniel Somoza, Light and Dark, Special Recognition Award: High School Student, Winner Peoples Choice Award
Ru Devine, August 
Christopher Brown, Being Both: Picturing Picturing 
Bobby Chase, Canceled Corona Commercials
Frank Cavone, Don't Lose Hope: Save our Stages, Winner in the 2020 Rewind Category
Jonathan Lee, How to Make Kimchi (or How to be Korean)
Jonathan Lee, Seeds of Control, Honorable Mention Award
Marilyn McCabe, Fran Manatee
Ned Van Woert, The Silver (Haired) Surfer, Winner in the Other Category
Rachel Rehm, The Game, Winner in the Tunes Category
Jacob Anderson, 77 Pleasant Street