Please join us for a gallery reception on March 18, 4 – 6 pm.  This event is free and open to the public.
Kathryn Lynch's paintings draw from  a variety of subjects, often daily encounters that range from NY's Hudson Valley landscape, NYC cityscapes, New England seascapes, and sometimes dogs, people, flowers, and even tug boats. Her paintings are not "plein air", or observed from direct observation, but capture what is caught in the periphery, or peripheral vision – a sense form, light, and atmosphere. The simplicity of forms, and direct, yet seemingly loose strokes in her paint handling, become distilled records of passing moments. She says: "I am not painting a specific place, I'm painting a specific mood and feeling about a place."  … "because when I leave a place it's still with me—I keep painting it."
Kathryn Lynch earned her BA from William Smith College, and her MFA from University of Pennsylvania. She also studied at Skowhegan School of Painting and Sculpture. Her recent solo shows include City Grit, Sears-Peyton Gallery, NYC; Restless Nights, Private Public Gallery, Hudson NY; Between the Streets, Turn Gallery, Palour Room, NYC; Islands, The Drawing Room Gallery, East Hampton, NY; Far Away Home, Sears-Peyton, Gallery, NYC; Hot Days and Nights, Tayloe Piggott Gallery, Jackson Hole, WY. Her awards include a 2018 NYSCA/ NYFA Artist Fellowship in painting, and residencies at Yaddo, Vermont Studio Center, Virginia Center for the Creative Arts, Marie Walsh Sharpe Foundation, Foundation Valparaiso and the Millay Colony. Her work has been featured in New American Paintings, Art News, the online contemporary art magazine Two Coats of Paint and Guernica Magazine, among other publications. Her work is in public and corporate collections such as the University of California Berkeley Art Museum, Fort Wayne Museum of Art, Microsoft, Johnson and Johnson and others.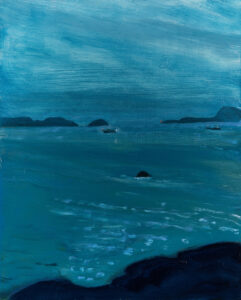 Online Articles:
Two Coats of Paint
GUERNICA a magazine of art & politics
You can learn more about her work at https://www.kathrynlynch.com.
The Courthouse Gallery is located at the side entrance of the Old County Courthouse, corner of Canada and Lower Amherst Streets in Lake George, NY. During scheduled exhibitions dates our in-person office and gallery hours are Wednesday through Friday 12 – 5 pm, Saturday 12 – 4 pm. If you need to reach us between active exhibition dates we are available through phone and/or email:
Laura Von Rosk, Gallery Director, 518.323.5499, [email protected]
Tanya Tobias-Tomis, Executive Director, 518.832.0183, t[email protected]
This exhibition is funded in part by the Town and Village of Lake George, The New York State Council on the Arts, 518 Profiles Magazine, the Glenn & Carol Pearsall Foundation, the Alfred Z. Solomon Charitable Trust, and LGAP members. Please Join us today!