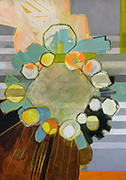 .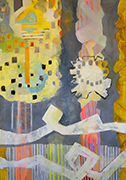 Opening Reception: Saturday, May 11, 4 – 6 pm.
This event is FREE and open to the public.
Gallery Hours: Tu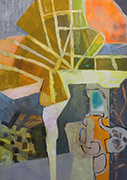 es – Fri 12 – 5 pm, Sat 12 – 4 pm.
Reviews online: Get Visual
Works by Yura Adams stem from her intimate survey and imaginative observations of the natural world outside her studio window, located in the Hudson Valley of NY State. There, surrounded by overgrown fields, observing weather events and the changing light of the seasons, she creates works that are abstract, but inspired by, and rooted in, the real world. Her deep interest in the natural sciences, as well as cultural and current events, have lead to a new body of work: Fast Earth. She says: "The study of Earth is at the center here… a vision of Earth as it survives without hum
Yura Adams earned her MFA and BFA from the San Francisco Art Institute. Her work has been exhibited nationally in many venues, such as The New Museum, Experimental Intermedia, Franklin Furnace, New Music America, all in New York City; Real Art Ways, Hartford, CT; and one person shows at the John Davis Gallery in Hudson, NY. She has taught for many years Columbia-Greene Community College in Hudson, NY. Her awards include an Individual Artist Grant from the National Endowment for the Arts; Two New York Decentralization Grants; the Martha Boschen Porter grant from the Berkshire Taconic Foundation; and she is a recipient of the New York Foundation of the Arts Mark program. She is currently represented by John Davis Gallery in Hudson, NY.
This exhibition is funded in part by the Alfred Z. Solomon Charitable Trust; Adirondack Studios; the Community Exchange Foundation; Mannix Marketing; the New York State Council on The Arts with the support of Governor Andrew Cuomo and the New York State Legislature. The Courthouse Gallery is located at the side entrance of the Old County Courthouse, corner of Canada and Lower Amherst Streets, Lake George, NY. The Courthouse Gallery hours during exhibitions are Tuesday through Friday 12 – 5 pm, Saturday 12 – 4 pm, and all other times by appointment.
thank you to our sponsors: